Great Location. Too Bad About The Neighbours.
The paint may be peeling, the taps leaking and there may be an unpleasant smell here and there… but there's never been a better time to move into Robson Arms.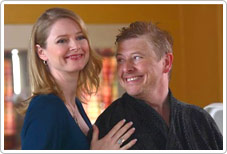 Season three begins as a true blue American, Chuck Hoskins, (Dave Foley) takes over everyone's favourite building in Vancouver's West End. Together with his wife Trixie and her top secret BBQ rub, he organizes a "meat 'n greet" for our eclectic group of tenants. The new landlords seem as sweet as apple pie - but this pie has a hair in it. As the season unfolds, their true ambitions are revealed.
Some of our residents buy into the Hoskins' grand vision, and others are too busy to notice, as their lives continue to evolve and sometimes unravel: Sault discovers the dark side of positive thinking; Fred and Alicia explore the strange new galaxy of newlywed life - with help from Fred's frenetic and 'sensitive' co-worker, Bark; Bobbi learns that life can sometimes be just like high school; resident slacker Hal gets pulled taut when his Dad pulls up in an RV and moves in with him and his roomie Nick; Carol chooses between Mr. Wrong and Mr. Wronger; while Geoff and Stanley have some man troubles of their own; and Yuri makes a life-changing discovery which fathers a dramatic decision.
By the end of the season, the chaotic lives of the tenants and machinations of the new owners intertwine, causing rifts between friends and creating unlikely allies, while the building's future hangs in the balance.
Drop by any time.
CAST
Season three of Robson Arms builds on the success of a casting formula that boasts an impressive and diverse collection of Canadian talent, including
John Cassini (Intelligence, NYPD Blue) as Yuri Kukoc, the appealing but sleazy superintendent; Gabrielle Miller (Corner Gas, Elijah) as Bobbi; Fred Ewanuick (Corner Gas, Young Triffle's Been Made Away With) as Nick; Alisen Down (Battlestar Gallactica, Smallville) as Sault; Zak Santiago (Shooter, The Assistants) as Hal; Jane McGregor (American Venus, Flower & Garnet) as Alicia; and Haig Sutherland (Slither, Alice I think) as Fred.
Guest stars this season include: Dave Foley (Scrubs, News Radio) as Chuck; Joe Flaherty (SCTV, Happy Gilmore) as Ramon; Will Sasso (Entourage, Mad TV) as Bark; Linda Kash (Cinderella Man, Best In Show) as Carol; Patrick McKenna (The Red Green Show, Trudeau) as Jason Rogerman; Gavin Crawford (Corner Gas, This Hour Has 22 Minutes) as Phil; and Allison Hossack(Falcon Beach, Reaper) as Trixie, Shaun Majumder (Harold & Kumar, This Hour Has 22 Minutes) as Dr. Jordan Cohen; and Carly Pope (24, Popular) as Anke Vermeulen.