Behind the Scenes - Lecky the Dog
Lecky. Most Awesome Dog. Ever.
Feb4/97 - Dec18/06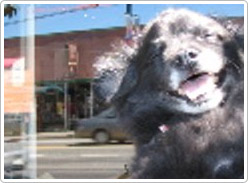 It was a last minute decision to include Lecky in the musical number for "Misery, Inc." after our composer Dan Ross asked for an extra few lyrics to fill out the song. Executive Producers Susin Nielsen and Gary Harvey suggested that I write my dog into the episode -- he'd fast won the hearts of cast and crew alike and so adding him to the musical seemed both natural and right despite the nature of the lyrical jab at the way he walked. You gotta understand, though Lecky was born with a neurological disorder that affected his gait, he never once suffered from this nor did it hold him back from running like a deer or strolling the streets of Mount Pleasant like the king of the hill. He challenged people to see beyond the legs and accept him for what he was: a dog/monkey/alien/lamb/little man who brought joy and smiles wherever he went.
I used to joke that his odd way of walking was merely a performance piece to get people to pay attention. And they did. He is truly missed by all who knew him.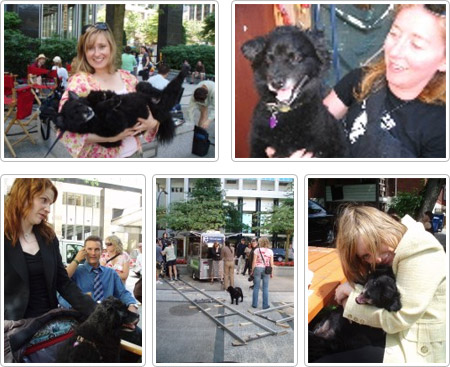 Note from the Executive Producers: Lecky won the hearts of all of us on Robson Arms 2. If you were having a bad day, all it took was one look from Lecky (or better yet, a walk-by) and you couldn't help but smile (and stop and chat – Lecky was a very good listener). He was so good-natured, so … Zen … about life, about his disability (although Lecky never thought of it that way, his legs were just a part of who he was).
There was something oddly un-dog-like about Lecky. He was like our own mini-Buddha, like a mini-Jesus spreading his goodwill and good vibe on set and on the streets of Vancouver. No one who met Lecky was unaffected by him. He was also the softest dog ever and always game for a cuddle and rarely did he smell bad. We second Daegan's emotion above: He truly was Lecky the Wonder Dog.