Behind the Scenes - A Home for Caldo
Typically, Grant Pearse, as a Production Designer, is responsible for taking the descriptions the writers provide in the script and turning them into physical environments, sometimes an office, sometimes a restaurant… most often an apartment for a tenant who lives in Robson Arms. But when it came time to design the home of Caldo Vasco (Leslie Nielsen), a has-been NHL'er and failed restaurateur, things took a bit of a left turn.
"We're always trying to find a little something to hang our design on. Because the show often travels from one apartment to another, we want to let the viewer instantly recognize whose apartment they're in." Inspiration comes from many sources.
"Obviously we begin with the script, we find out everything we can about the character and his personal history. We knew about Caldo's life prior to his accident, he was a hockey player who played briefly with the Toronto Maple Leafs in the early 1960s. We knew he had a Pizza franchise. And that he lived alone." Here is the Set Description from the script
INT. CALDO'S APARTMENT – DAY

Caldo wheels into his apartment.

Very few decorations, except for a blue sweater from the Maple Leafs, hung in a protective frame above the mantle. Strangely there's also a poster propped against the wall, of a middle-aged Caldo, in a generic hockey uniform, holding a Pizza with the words VASCO'S PIZZA!

Caldo wheels easily through the large tracts of empty space towards the kitchen.

Pretty standard stuff, until it came to a chance conversation with Executive Producer Gary Harvey. Harvey had a friend who had a basement filled with Tiki lounge props and furnishings. "We didn't know exactly what we wanted to do with it, but we liked the idea of it, and had a feeling that it if we found the right character, it might fit."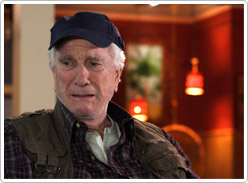 Enter Caldo Vasco, a bitter old bastard in a wheelchair. It wasn't an obvious fit, but with its deep reds, and throw back to an earlier "more swinging" time, it made a kind of sense for Pearse.
"We try not to design too 'on the nose'". Grant feels that sometimes when a designer reads a character has just returned from an African safari the instinct might be to immediately pull out the zebra-print rug. "As a designer you're trying to push past the obvious to get to the story of the character. "
But not everyone was immediately onboard with the Polynesian theme with this troubled character. "I had heard that Leslie Nielsen was a little taken aback when he first saw the set." The brightly coloured lights may not have reflected the actor's image of his characters somewhat dark nature. "And of course, he was right. Caldo is a little dark, but what I was hoping to show was where this darkness might have come from... a disappointment with an idealised version of his past."
By the time he finished shooting his episode the actor seemed to be won over. "He came up to me and told me how much he loved his apartment and how great it worked."
As a designer Pearse feels that it's his job to try "to compress reality into the frame. To tell a story and avoid the obvious. To miss by a margin so that it's complex and believable as real life."