Gary Harvey
Executive Producer, Co-Series Creator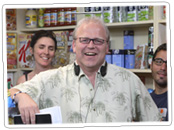 Director/producer Gary Harvey has been working in the Canadian film and television industry for over 15 years in many production capacities. Over the past ten years, his focus has been producing and directing. Harvey has produced over 120 episodes of television and has directed over 100 additional episodes of such series as of Godiva's (the entire first season), Traders, The Associates, Tom Stone, Nothing Too Good For a Cowboy, The New Addams Family and Call of the Wild.
Harvey produced the award-winning CBC television movie The War Between Us, and co-wrote the award-winning pilot episode of Madison, becoming both line-producer and a director on the series. He produced the first season of The Adventures of Shirley Holmes, and was the supervising producer on the CBC series The Rez. Harvey produced Seasons IV, V, VI and VII of Cold Squad for Alliance Atlantis and CTV and directed the CBC's television movie, Another Country, based on the series North of 60.
Harvey is executive producer, co-creator and lead director on Robson Arms and he recently co-executive produced Alice, I Think, a 13-part prime-time comedy series also for CTV and the Comedy Network, along with his Robson Arms partner, Susin Nielsen.
Harvey grew up in Langley, BC where he still lives with his wife and two children.
Susin Nielsen
Executive Producer, Co-Series Creator, Head Writer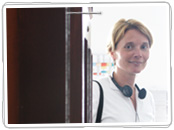 Susin started her career in television feeding cast and crew muffins and bologna sandwiches on the internationally acclaimed and award-winning teen drama, Degrassi Junior High. They hated her food, but saw a spark in a spec script she wrote. Susin went on to write 16 episodes of Degrassi Junior High and Degrassi High.
Since then Nielsen has written for and executive story-edited on many television series, including Madison, Nothing Too Good for a Cowboy, The Adventures of Shirley Holmes, Edgemont and the animated series, What About Mimi.
More recently, Nielsen co-created and co-executive produced the critically acclaimed TV series Robson Arms, which is currently filming its third season for CTV. She also adapted Alice, I Think for television (CTV and the Comedy Network), a half-hour comedy series based on the best-selling novels by Susan Juby.
Writing awards include a Gemini for the pilot episode of Shirley Holmes and two Canadian Screenwriter awards, one for an episode of Madison and one for the pilot of Robson Arms.
Nielsen has also published three children's books, and just sold her first young adult novel, Word Nerd, to Tundra books, a division of McClelland and Stewart. She lives in Vancouver with her Swedish husband Goran, son Oskar, and cat Sam.
Brian Hamilton
Executive Producer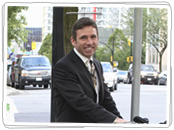 Brian Hamilton moved to Vancouver in 1992 and joined Omni Film Productions in 1994. Since then he has produced or executive produced over 35 projects resulting in more than 100 hours of broadcast programming. Industry recognition for his projects has included multiple Gemini nominations, many Leo awards, as well as The Japan Prize, The Shaw Rocket Prize, and Hot Docs' award for Best Political Documentary.
Brian's first dramatic series as a producer was Robson Arms, which started development in 2002. Originally a documentary producer, Brian's credit list has since grown to include prime-time scripted comedy (Alice, I Think, This Space for Rent); youth programming (Make Some Noise); lifestyle programming (Healthy Home); and documentary series (Ancient Clues, Trailblazers, Hi-Tech Culture) as well as many documentary singles and specials (The Terry Fox Legacy, Slammin' Iron, Ice Girls, Firestorm).
In addition to Season 3 of Robson Arms, Brian is also executive producing the 2-hour CBC documentary special Shock Wave, as well as two lifestyle series: She's Crafty and Word Travels.
Brian holds a First Class Honours Bachelor of Applied Science degree in Systems Design Engineering from the University of Waterloo, and received his television training from the Banff Centre for the Arts.
David Moses
Creative Producer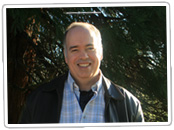 David Moses has worked in theatre, film and television for over fifteen years. After graduating from the University of Prince Edward Island and attending the National Theatre School of Canada, he returned to PEI to create Off Stage, a theatre company whose mandate it was to develop and produce new work. Most notably, he wrote and directed the award-winning docu-drama The Kelly Murders and created the hugely successful comedy revue Annekenstein that ran for eight seasons in Charlottetown.
He was selected in 2002 and 2004 to participate in the Atlantic Film Festival Script Development Program to develop two of his feature film scripts. His feature-length romantic comedy Darla's Ghost is being produced with Kim Todd at Original Pictures in Winnipeg.
In the past three years David's also been writing a lot for network television. He has returned for a third season of the half-hour CTV drama series Robson Arms. In addition to writing several episodes he also works as the series' Creative Producer.
Most recently David has been creating a mystery series for CTV.
Jason James
Associate Producer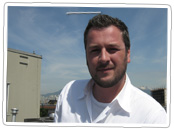 Jason James is an award-winning independent Producer/Director based in Vancouver, BC. He got his start working at Haddock Entertainment for four years as an Associate Producer on the critically acclaimed TV crime drama Da Vinci's Inquest (IV, V,VI and VII) and the CTV television movie, The Life. He then went on to create/produce his own TV series for the CBC entitled, This Space For Rent. More recently, Jason produced Carl Bessai's feature film, Unnatural & Accidental, which premiered at the MoMA in New York City and played the 2006 Toronto and Vancouver International Film Festivals.
Jason also directed a commercial for The David Suzuki Foundation as well as produced a short film for the CBC Signature Shorts program, Rugged Rich and the Ona Ona. He also wrote, produced and directed Light Rapid Transit, a short film that premiered at the 2003 Vancouver Film Festival and has screened at several film festivals around the world including the prestigious 2004 Clermont-Ferrand Film Festival in France. Jason also produced and directed two music videos for rock bands The Smugglers and Mount Pleasant. These videos were produced in co-operation with Video FACT and aired on Much Music.
Jason is currently working on Season 3 of the CTV series Robson Arms and is finishing up a documentary for the W Network on Universal Music artist Hayley Sales. He is also developing two new comedy series for the CBC and the Comedy Network.
Prior to his career in film and television, Jason worked at a record store for five years where he amassed a very large and diverse music collection and honed his record store attitude.
Omni Film Productions Limited
Omni Film Productions Limited has produced hundreds of award-winning documentaries, factual and lifestyle series, dramas and comedies since opening its doors in 1979. Omni is one of Canada's most respected independent television producers, with a reputation for delivering compelling and highly entertaining stories while always maintaining quality production values.
Omni Film is currently producing or developing programming for all of Canada's major broadcasters as well as many top specialty networks. Omni Film programs have been seen in 175 countries, translated in over 20 languages, and have won more than 100 national and international awards. Together with sister companies Water Street Pictures, Water Street Releasing and Omni Post, Omni Film is a complete television production, post-production and distribution entity with a steadily growing catalogue of exceptional programming including over 72 hours produced in High Definition.
FACTUAL SERIES
Make Some Noise is a hip, raw music series profiling youth activists. Stuntdawgs reveals the fast action and the science behind the dangerous world of professional stunt performers. Ancient Clues uncovers forensic evidence to solve archaeological mysteries. Champions of the Wild features the world's most passionate defenders of wild and endangered animals.
DRAMA/COMEDY
Dragon Boys, a two-part four-hour mini-series, is a high-octane thriller that centers on a Chinese-Canadian RCMP detective who confronts a deadly threat. With a superb international cast and based on meticulous research, Dragon Boys opens a window into the world of organized Asian crime in West Coast Canada. Robson Arms is heading into its third season. This unique dramedy series set in a rundown apartment building, peeks behind a new door each week. This Space For Rent is a comedy series about that period in your life when you feel on the cusp of greatness, but everything is so much more comfortable on the couch. Alice, I Think is a heart-warming comedy series based on the popular novels of Canadian author Susan Juby. Omni Film's award-winning Edgemont a 70-episode teen drama series continues to be broadcast around the world.
DOCUMENTARIES
Currently Omni Film is producing Cascadia's Fault a documentary special about a possible west coast tsunami. Touring the film festivals is Greenpeace: Making a Stand. Other recent documentaries include Running on a Dream: The Legacy of Terry Fox and Slammin' Iron: Rebuilding the World Trade Center. Past docs are The Life & Times of Daniel Igali, The Disappearance of the PX-15, Older Women/Younger Men and the feature documentary Weird Sex and Snowshoes, based on the book by film critic Katherine Monk.
LIFESTYLE SERIES
Last year Omni Film created Omni Lifestyle, a new division headed by award-winning lifestyle producer Heather Hawthorn-Doyle. Omni Lifestyle now has two new shows in production including She's Crafty and Word Travels. This division's series build upon Omni Film's catalogue of wellness programming which includes the innovative Shimmy, a 26-episode belly dance series, Namaste, a 26-episode yoga series, Healthy Home, 39 episodes about healthy design; Quiet Places, 13 episodes visiting some of the world's most inspiring retreats, and Quiet Mind, the first Canada-Singapore series co-production.
TV SHOW CREDIT LIST
Executive Producers
GARY HARVEY
SUSIN NIELSEN
BRIAN HAMILTON
MICHAEL CHECHIK

Producer
BRIAN HAMILTON
Creative Producer
DAVID MOSES
Line Producer
KEN LAWSON
Associate Producer
JASON JAMES
Created by
SUSIN NIELSEN
GARY HARVEY
Based on a concept by
LOUISE CLARK
Starring
DAVE FOLEY
JOHN CASSINI
GABRIELLE MILLER
ALISEN DOWN
FRED EWANUICK
ZAK SANTIAGO
JANE MCGREGOR
HAIG SUTHERLAND
KEVIN MCNULTY
DAVID RICHMOND-PECK
WILL SASSO
JOE FLAHERTY
LINDA KASH
GAVIN CRAWFORD
CARLY POPE
SHAUN MAJUMDER
PATRICK MCKENNA
HELENA YEA
GABRIELLE ROSE
ALLISON HOSSACK
TEGAN MOSS
COLIN FOO
JUSTINE WONG
JASON DEDRICK
TOM SAUNDERS

Story Editors
KEN CRAW
JENNIFER DALEY
Writers
SUSIN NIELSEN
DAVID MOSES
JESSE MCKEOWN
ELIZABETH STEWART
KEN CRAW
JENNIFER DALEY
Directors
GARY HARVEY
JAMES GENN
KEVIN FAIR
TONY DEAN SMITH
JAMES DUNNISON
DAVID STOREY
JASON FURUKAWA
MONIKA MITCHELL
Director of Photography
KAMAL DERKAOUI, C.S.C.
Production Designer
GRANT PEARSE
Composer
DANIEL ROSS
Editors
FRANCO PANTE
ERIN PARKS
Casting by
CORINNE CLARK
JENNIFER PAGE
WEBSITE CREDIT LIST
Web & Interactive Producer
JASON JAMES
Design by Switch Interactive
CATHERINE WINCKLER
JAYBE ALLANSON
BEN CRUZ
MURRAY FALCONER
MIKE SCHIMANOWSKY
MIKE DENNISON
Robson Arms 3 is developed and produced by Omni Film Productions Limited in association with CTV, with the participation of the Canadian Television Fund, created by the Government of Canada and the Canadian Cable Industry, and produced in association with the Province of British Columbia, Film Incentive BC, the Canadian Film or Video Production Tax Credit and Rogers Telefund. Developed with the participation of British Columbia Film.