"Dancing the Horizontal Mambo"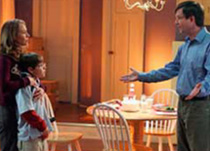 When the cranky building super tells Henry all his mother Janice needs is "a good poke", Henry narrows the potential 'pokers' in the building down to shy widower Tom. His plan goes terribly awry, but it forces Janice to reassess her behaviour and her opinion of Tom.
Dirty Laundry

Mark McKinney was offered a different role first, but expressed interest in playing Tom instead, where he plays opposite Megan Follows.

It tickled Robson Arms producers to hear the former star of Anne of Green Gables swear like a trucker in one of the scenes.