"Positivity"
Written by: David Moses Directed by: Tony Dean Smith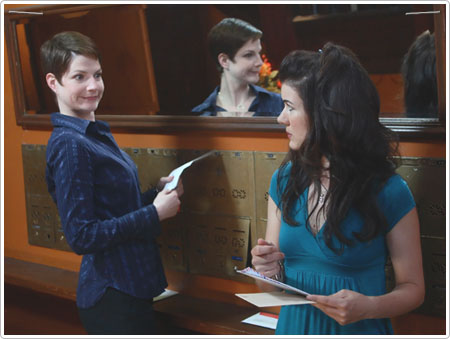 Sault is down on her luck when she decides to try a little positive thinking. No sooner has she tried a few happy thoughts when BAM - her nemesis gets taken out of the picture and she lands a plum marketing gig. But karma is catching up with Sault - will she manage to positively destroy the best opportunity of her career?
| | |
| --- | --- |
| Actor | Character |
| Alisen Down | Sault Ste. Marie |
| David Richmond-Peck | Geoff McAlister |
| Fred Ewanuik | Nick Papathanasiou |
| Allison Hossack | Trixie Hoskins |
| Helena Yea | Grandma Tan |
| Colin Foo | Bao Tan |
| Gabrielle Miller | Bobbi Briggs |
| Dan Payne | Richard |
| Melanie Blackwell | Marcie |
| Tahmoh Penikett | Himself |
| Mayor Sam Sullivan | Himself |
| Jason Dedrick & Tom Saunders | The Troubadours |
Dirty Laundry

There was almost more excitement than bargained for during the filming of this episode. First of all, the city workers announced that they were going on strike on the very day that Vancouver's Mayor Sam Sullivan was scheduled to perform as himself on set. At the last minute, the production had to switch the location of the Mayor's scene to avoid potential picket lines.

Later, during the filming of the climactic scene at Science World under the ominous grey skies called for in the script, the heavens rained down at precisely the right moment to create the brief torrential downpour that had also been scripted. The cast and crew were astonished and the rain making equipment wasn't needed.