"Wrong and Wronger"
Written by: Elizabeth Stewart Directed by: Tony Dean Smith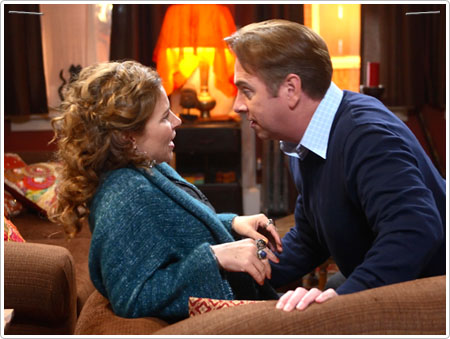 Everyone loves Carol's new beau Matt. Too bad she's falling for Jason, the wrong guy who insults all her friends. Now she has to choose between everyone's Mr. Perfect and her own guilty pleasure.
| | |
| --- | --- |
| Actor | Character |
| Linda Kash | Carol Goldstein |
| Patrick McKenna | Jason Rogerman |
| Kevin McNulty | Stanley Wasserman |
| David Richmond-Peck | Geoff McAlister |
| Gabrielle Rose | Toni Mastroianni-Tan |
| Colin Foo | Bao Tan |
| Allison Hossack | Trixie Hoskins |
| Haig Sutherland | Fred Fochs |
| Tegan Moss | Georgia |
| Helena Yea | Grandma Tan |
| Ted Whittall | Matt |
| Tom Saunders & Jason Dedrick | The Troubadors |
Dirty Laundry

The "Red Green Show's" infamously hilarious Patrick McKenna was true to form in his Robson Arms role as the would-be boyfriend to Linda Kash, who admitted she had a really hard time keeping a straight face when acting opposite the irrepressible jokester.

Seen in the background of Chuck and Trixie's apartment is a bulletin board that shows an architect's rendition of what the condos proposed by the new owners might look like. Production Designer Grant Pearse and his team took inspiration from a sampling of 3 new Vancouver condo developments and created a composite drawing to reflect the concept, showing the old fašade with a startlingly modern new condo building rising above it.