"Cherchez la Femme"
Written by: Ken Craw and David Moses Directed by: Monika Mitchell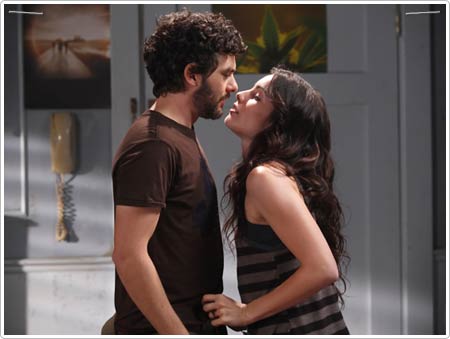 Nick returns to Robson Arms from his world tour with a special souvenir - Anke (Carly Pope)... his new Belgian wife. Her volatile personality and strong convictions start to come between Nick and Hal, and just as Hal is about to kick them out, Nick admits he made a big mistake marrying Anke. Is Nick going to stay trapped or set himself free?
| | |
| --- | --- |
| Actor | Character |
| Fred Ewanuick | Nick Papathanasiou |
| Zak Santiago | Hal Garcia |
| Carly Pope | Anke |
| Gabrielle Miller | Bobbi Briggs |
| Tegan Moss | Georgia |
| Allison Hossack | Trixie Hoskins |
| Betty Linde | Tabitha |
| Chelah Horsdal | Shania |
| Ben Cotton | Joel |
| Tom Saunders & Jason Dedrick | Troubadours |
Dirty Laundry

Robson Arms resident Georgia (Tegan Moss) is hoping that Nick's new wife Anke (Carly Pope) will be her artistic mentor but finds herself rudely rejected by the brash European. The two actors had a lot of fun with the scene, especially since they happen to be good friends in real life.

One filming day saw the sensitive Taylor Manor (aka Robson Arms) fire alarm start blaring during the middle of a scene, sending everyone including a bathrobe clad Gabrielle Miller out into the very cold air. Fire engines soon arrived but put the whole thing down to atmospheric smoke.