"Il Pagliacci"
Written by: Susin Nielsen Directed by: James Genn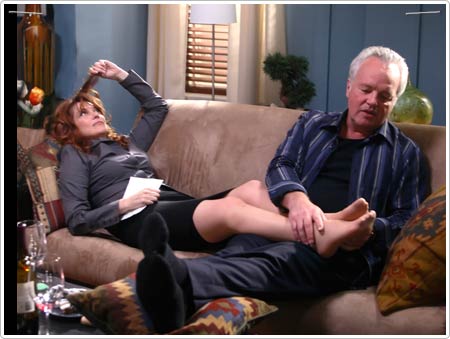 Geoff and Stanley have a surprise houseguest - Stanley's ex-wife Frances. Their walk down memory lane leads to a bizarre love triangle of operatic proportions. It could be the last bump on a rocky road as Geoff questions who Stanley's soul mate really is.
| | |
| --- | --- |
| Actor | Character |
| Kevin McNulty | Stanley Wasserman |
| David Richmond-Peck | Geoff McAlister |
| Lynda Boyd | Frances |
| Alisen Down | Sault Ste. Marie |
| Dave Foley | Chuck Hoskins |
| Haig Sutherland | Fred Fochs |
| Helena Yea | Grandma Tan |
| Justine Wong | Ruby Tan |
| Tom Saunders & Jason Dedrick | The Troubadours |
Dirty Laundry

Playing part of a gay couple on Robson Arms has not been without some unexpected effects. Kevin McNulty says that there were some longtime stalwart fans in his hometown who often contacted family members for mementos of McNulty's latest screen performances. However, when one avid fan finally got a look at the much-admired actor in his new role as Stanley, he was apparently so shocked that he immediately stopped all contact and was never heard from again.