"Trixie's Honour"
Written by: Jesse McKeown Directed by: Gary Harvey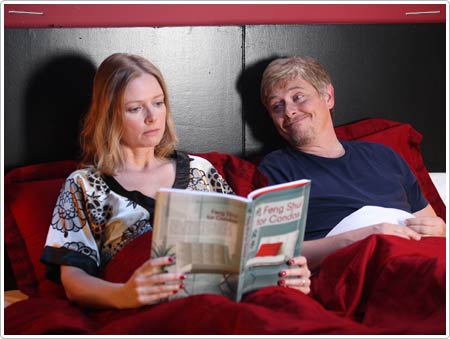 Trixie and Chuck are at odds over Robson Arms. Trixie wants to finish repairs on the building and apply for a condo status, while Chuck would rather take the money and run. An intricate game of cat and mouse ensues with the fate of Robson Arms as the prize.
| | |
| --- | --- |
| Actor | Character |
| Dave Foley | Chuck Hoskins |
| Allison Hossack | Trixie Hoskins |
| Haig Sutherland | Fred Fochs |
| John Cassini | Yuri Kukoc |
| Linda Kash | Carol Goldstein |
| Betty Linde | Tabitha |
| Ellie Harvey | Female Contractor |
| Daniel Boileau | General Noseworthy |
| Peter New | Marriage Counsellor |
| Jose Vargas | Juan Montenegro |
| Tom Saunders & Jason Dedrick | Troubadours |
Dirty Laundry

Since Robson Arms is a family show, there were a few raised eyebrows and even more giggles at several scenes which have both Dave Foley's character Chuck and his wife Trixie (Allison Hossack) tie each other to their matrimonial bed - for perfectly legitimate reasons of course. In another scene, Yuri (John Cassini) nearly gets run over by Chuck and ends up plastered across the windshield. "I always do my own stunts," jokes Cassini, "Jackie Chan, Cruise, Cassini, we're all in the same club."